Course details
【All you can eat】 All-you-can-drink for 3 hours "Cheese Taccarbie or Shabu-shabu All-you-can eat" 【3480 yen → 2980 yen】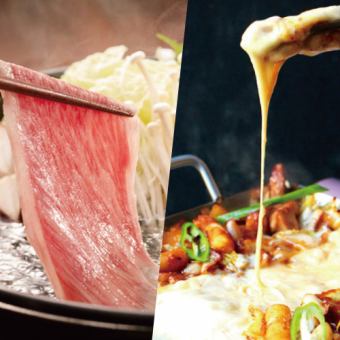 All-you-can-drink available

All-you-can-drink for 3 hours (2 hours on the day before holiday)
Reservation deadline

Coming to the store until the desired date of the day 22
Available days for reservation

Monday - Sunday - Public holidays - Holidays
All you can eat cheese taccarbie popular in Korea ♪ luxurious shabu-shabu using brand pig ♪ Please choose either! With a platter of sashimi at + 500 yen, you can change to shabu-shab's shabu-shab at + 1000 yen!
Course menu
【1】 chef appreciation appetizer
【2】 Originality salad
【3】 Today's gem
【4】 onion ring
【5】 Cheese Taccarbie or Pig Shabu (All you can eat)
【6】 Deep-fried cheeses
[7] Today's dessert
ー ー ー ー ー ー ー ー ー ー ー ー ー ー ー ー ー ー ー ー ー ー ー ー ー ー ー ー ー ー ー ー ー ー ー ー ー ー ー ー
※ 500 yen OFF coupon usage amount.
※ plus sashimi with plus 500 yen
※ Can be changed to Shabu-pig's shabu-shab at + 1000 yen!
※ Please specify the main menu of all you can eat at the time of reservation.※ If there is no choice of all you can eat, it will be Cheese Taccarbie.※ The contents of the dish may change depending on purchase.※ You will have all you can eat Shabu-shabu after eating the first dish.※ All you can drink on Friday, Sunday and public holidays is 2 hours
※ December use is from Sunday to Thursday
ー ー ー ー ー ー ー ー ー ー ー ー ー ー ー ー ー ー ー ー ー ー ー ー ー ー ー ー ー ー ー ー ー ー ー ー ー ー ー ー
All-you-can-drink menu
·beer
· Draft beer (Asahi Super Dry) / Lycheevia / Shandyagaf / Guavaq / Campalibia / Banache
Beer cocktails
· Litchvia / Guerbia / Campalribia / Shandigerf / Panache
Wine wine cocktail
· Red · White / Original Sangria Red · White / Keel / Kitty / Wine Cooler
·Highball
· Tris High Ball / Cork High Ball Coke / Litchi High Bowl / Guava High Ball Coke / Ginger High Ball
Sour sake High
· Plain / lemon sour / lime sour / gua basser / lyche sour / lemon tea hi / oolong hi / green tea high
·Cocktail
· Reggae Punch / Peach Orange / Peach Fizz / Cassis Oolong / Cassis Orange / Cassis Soda / Spumoni / Campus Orange / Campari Soda / Vodka Tonic / Moscow Klee / Screwdriver / Gin Tonic / Orange Blossom / Jinbach / Lychee Oolong / Lychee Orange / Rauchi Soda
·Soft drink
· Ginger Ale / Coca-Cola / Tonic Water / Orange / Oolong Tea / Green Tea
2018/08/19 update