Course details
【Luxury use!】 All-you-can-drink 3 hour dinner "All-you-can-eat meat sushi course" 【7 items in total / 3980 yen → 3480 yen】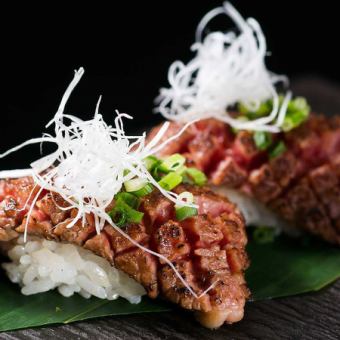 All-you-can-drink available

All-you-can-drink for 3 hours (2 hours on the day before holiday)
Reservation deadline

Visit of hope the day before until 23:00
Available days for reservation

Monday - Sunday - Public holidays - Holidays
The topic is boiling on TV! Meat sushi appears in all you can eat!
Course menu
[1] seasonal appetizer
One dish which used seasonal ingredients abundantly!
【2】 Caesar salad with seasonal vegetables
Fluent seasonal vegetables!
【3】 Hot fried potato "All you can eat"
All-you-can-eat potato fly ♪
【4】 Deep-fried young bird "All you can eat"
Deep-fried in-store preparation using young birds
【5】 Gorgeous meat sushi "All you can eat"
SNS shine ★ perfect meat dish!
【6】 Assorted Oshika
[7] season of desserts
Female uke with dessert ◎
ー ー ー ー ー ー ー ー ー ー ー ー ー ー ー ー ー ー ー ー ー ー ー ー ー ー ー ー ー ー ー ー ー ー ー ー ー ー ー ー
※ 500 yen OFF coupon usage amount.
※ Reservations are accepted until 23 o'clock the previous day
※ Please make reservations on the day by consultation necessary
※ Friday, Saturday and holidays the day before the two-hour
ー ー ー ー ー ー ー ー ー ー ー ー ー ー ー ー ー ー ー ー ー ー ー ー ー ー ー ー ー ー ー ー ー ー ー ー ー ー ー ー
All-you-can-drink menu
·beer
· Draft beer (Asahi Super Dry) / Lycheevia / Shandyagaf / Guavaq / Campalibia / Banache
Beer cocktails
· Litchvia / Guerbia / Campalribia / Shandigerf / Panache
Wine wine cocktail
· Red · White / Original Sangria Red · White / Keel / Kitty / Wine Cooler
·Highball
· Tris High Ball / Cork High Ball Coke / Litchi High Bowl / Guava High Ball Coke / Ginger High Ball
Sour sake High
· Plain / lemon sour / lime sour / gua basser / lyche sour / lemon tea hi / oolong hi / green tea high
·Cocktail
· Reggae Punch / Peach Orange / Peach Fizz / Cassis Oolong / Cassis Orange / Cassis Soda / Spumoni / Campus Orange / Campari Soda / Vodka Tonic / Moscow Klee / Screwdriver / Gin Tonic / Orange Blossom / Jinbach / Lychee Oolong / Lychee Orange / Rauchi Soda
·Soft drink
· Ginger Ale / Coca-Cola / Tonic Water / Orange / Oolong Tea / Green Tea
2018/08/19 update