Course details
【Luxurious boast!】 With 3 hours drink all you can 「flower course」 【7 items in total / 3980 yen → 3480 yen】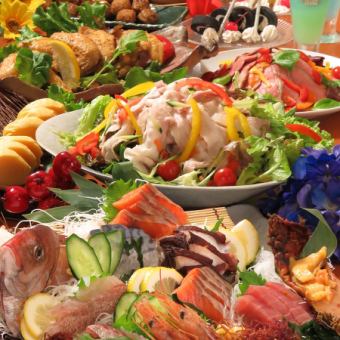 By using a coupon3480 yen
All-you-can-drink available

B course 2 hours all-you-can-drink
Reservation deadline

Visit of hope the day before until 22:00
Available days for reservation

Monday - Sunday - Public holidays - Holidays
It is recommended content with platinum pig bacon steak, fresh fish carpaccio from Hanamaki, Iwate prefecture!
Course menu
[1] salt boiled green soybeans
Boiled edamame beans compatible with alcohol ◎
[2] Caesar salad
The royal road Caesar salad!
[3] fresh fish carpaccio
Come fresh fish directly to the fishing port!
【4】 Homemade deep-fried chicken
Loose chicken soaked in secret sauce
Deep fried in a juicy ♪
【5】 Fried sauce of the day
◎ recommended volume of deep-fried food
【6】 Chef Homemade Pasta
Confidence work finished in authentic Italian style!
[7] Today's dessert
Cooking chair It is refreshing with homemade dessert!
ー ー ー ー ー ー ー ー ー ー ー ー ー ー ー ー ー ー ー ー ー ー ー ー ー ー ー ー ー ー ー ー ー ー ー ー ー ー ー ー
※ 500 yen OFF coupon usage amount.
※ The contents of the dish may change depending on purchase.※ All you can drink beer at + 500 yen OK!
※ Friday, Sunday and public holiday is two hours season, after 22 o'clock only
ー ー ー ー ー ー ー ー ー ー ー ー ー ー ー ー ー ー ー ー ー ー ー ー ー ー ー ー ー ー ー ー ー ー ー ー ー ー ー ー
All-you-can-drink menu
Whisky highball
· Rock · Water · Split · Hot Water · Lemon High Ball / Ginger High Ball / Cork High Ball / Yuzu High Ball / Litchi High Ball / Mango High Ball / Guava High Ball / Calpis High Ball / Peach High Ball / Kyoho High Ball / Grapefruit High Ball
·plum wine
· Plum wine / cassis plum wine / mango plum wine / yuzu plum wine / lychee plum wine / giant peak plum wine
Shochu
· Kato / Kanono potato
Sour sake High
· Oolong Hi / Green Tea High / Lemon Sour / Lime Sour / Mango Sour / Peach Sour / Lychee Sauce / Ginger Sour / Guava Salt / Cork Sauper / Calpis Sour / Giant Peap Sour / Male Plum Sour / Plain Sour / Grapefruit Sour
·Cocktail
· Reggae Punch / Peach Fizz / Cassis Oolong / Cassis Orange / Cassis Soda / Spumoni / Campus Orange / Campari Soda / Vodka Tonic / Moscow Correr / Screwdriver / Gin Tonic / Orange Blossom / Zin Back / Lychee Oolong / Lychee Orange ... etc
·Soft drink
· Cola / Ginger Ale / Orange / Calpis / Hot Calpis / Calpis Soda / Green Tea / Hot Green Tea / Oolong Tea / Oolong Tea Hot / Tonic Water
2018/08/19 update