Course details
【Season's Banquet!】 All-you-can-drink 3-hour "Four Season Course" 【All 8 items / 4500 yen → 4000 yen】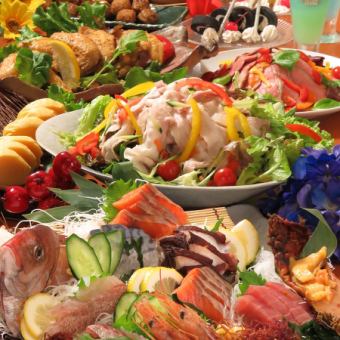 By using a coupon4000 yen
All-you-can-drink available

A course 3 hours All you can drink (※ Friday and Sunday Holiday before 2 hours)
Reservation deadline

Visit of hope the day before until 22:00
Available days for reservation

Monday - Sunday - Public holidays - Holidays
Bragging Japanese Course with plenty of seasonal ingredients!
Course menu
[1] appetizer
We will offer cuisine of instant cuisine from the appetizer!
【2】 cold shab salad
Sappori! But even when we eat and eat ◎
【3】 Carpaccio
Carpaccio using fresh fish luxuriously!
【4】 Hot Potato Fries
A dish using luxury potatoes from Hokkaido ♪
【5】 Special fried shrimp - homemade tartar sauce included ~
Tartaru sticking to hot shrimp!
【6】 Deep-fried boasts
Confident in volume! Eat and respond perfectly ♪
【7】 Sirloin Wagyu Beef Steak (Iwate Prefecture) or Hot pot (Winter)
♪ main adapted to the season
Please contact us for more information!
[8] dessert
Exquisite dessert of particular attention
ー ー ー ー ー ー ー ー ー ー ー ー ー ー ー ー ー ー ー ー ー ー ー ー ー ー ー ー ー ー ー ー ー ー ー ー ー ー ー ー
※ 500 yen OFF coupon usage amount.
* Can be changed to a hair crab pot with +1000 yen!
※ The contents of the dish may change depending on purchase.
※ All you can drink sake at + 500 yen OK!
※ Friday, Saturday and holidays the day before the two-hour
ー ー ー ー ー ー ー ー ー ー ー ー ー ー ー ー ー ー ー ー ー ー ー ー ー ー ー ー ー ー ー ー ー ー ー ー ー ー ー ー
All-you-can-drink menu
·beer
· Draft beer (Asahi Super Dry)
Beer cocktails
· Panache / Shandigafu / Cokebia / Cassisubia / Peach beer / Campalribia / Lycheevia / Mango beer / Yuzu beer / Calpis beer / Giant peak beer / Beer spritzer / Grapefruit via
Wine wine cocktail
· Red · White / Original Sangria Red · White / Kitty / White Kitty / Operator / Keel / Wine Cooler / Carimocho / Red Calpis / White Calpis
·Sake
· Heat / cold (one-piece · two-stage)
Whisky highball
· Rock · Water · Split · Hot Water · Lemon High Ball / Ginger High Ball / Cork High Ball / Yuzu High Ball / Litchi High Ball / Mango High Ball / Guava High Ball / Calpis High Ball / Peach High Ball / Kyoho High Ball / Grapefruit High Ball
Shochu
· Kato / Kanono potato
Sour sake High
· Oolong Hi / Green Tea High / Lemon Sour / Lime Sour / Mango Sour / Peach Sour / Lychee Sauce / Ginger Sour / Guava Salt / Cork Sauper / Calpis Sour / Giant Peap Sour / Male Plum Sour / Plain Sour / Grapefruit Sour
·Cocktail
· Reggae Punch / Peach Fizz / Cassis Oolong / Cassis Orange / Cassis Soda / Spumoni / Campus Orange / Campari Soda / Vodka Tonic / Moscow Klee / Screwdriver / Gin Tonic / Orange Blossom / Jinbac / Lychee Oolong / Lychee Orange ... etc 42 species
- Non-alcoholic cocktail
· Lycheesoda / Mango soda / Guava soda / Giant peak soda / Grapefruit soda / Lychee Calpis / Mango Calpis / Guava calpis / Giant peak Calpis / Grapefruit Calpis / Lychee milk / Mango milk / Guava milk / Giant milk / Calpis milk
·Soft drink
· Cola / Ginger Ale / Orange / Calpis / Hot Calpis / Calpis Soda / Green Tea / Hot Green Tea / Oolong Tea / Oolong Tea Hot / Tonic Water
2018/08/19 update